What NLC should do after criminal violence against MTN
Imagine what a picture of NLC President and the CEO of MTN shaking hands at the MTN headquarters can do to show Nigerians that NLC is not anti-business but there was only miscommunication which they are addressing internally
It is no longer news that the Nigerian Labour Congress (NLC) invaded the premises of telecoms company, MTN, across Nigeria from Monday July 9, 2018, ostensibly to picket the company but ended up carrying out acts of violence against the staff of the company and vandalizing equipment. The labour union went to protest the casualisation and poor welfare of its members by the telecoms giant but instead left in its wake, blood, destruction and what some described as carnage.
Critical national infrastructure across the country were reportedly breached and attempts were made to compromise them like turning off the independent power plants at the Ojota switch station, Lagos. Infact, staff of MTN had to create a human shield around human resources executive, Esther Akinnukawe, for her to escape the head office of MTN as NLC members were trying to beat her up. Many members of staff were allegedly harassed and forced to sing along with NLC members who were recorded in various violent acts of vandalism.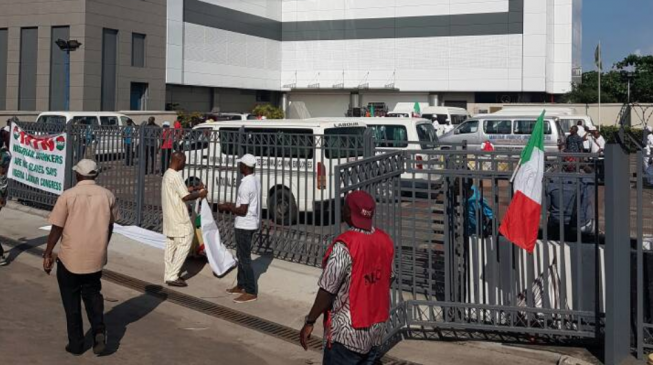 Of course many right-thinking individuals have called out NLC's act, including UK-based accountant and social commentator, Feyi Fawehinmi and veteran radio presenter, Jimi Disu with some calling the act by the NLC a fund-raising exercise.
How did the Nigerian Labour Congress descend so low to the point of being regarded as a collection of touts by Nigerians, a clear departure from the intellectual rigourousness and sagacity the Nigerian labour movement is well known for in the times past? What can the labour union do to conform to the International Labour Organisation (ILO) standard and rescue its battered brand?
NLC should ask itself why have Nigerians who previously jumped when NLC sneezed become apathetic to its cause? Why are people showing outrage at the violence meted out against MTN by NLC on various social media platforms? Why did their people have to resort to violence? Is MTN really guilty of casualisation, or it is the companies that they outsourced to that are guilty of such? Is there a better/more effective way of engagement that won't generate so much bad blood? After these questions are asked, then they should go on to the next step.
Come up a strategy: Offense, defense or placatory. I would advice placatory in this case and a mixture of the two other options going forward. Imagine what a picture of NLC President and the CEO of MTN shaking hands at the MTN headquarters can do to show Nigerians that NLC is not anti-business but there was only miscommunication which they are addressing internally.
Open social media accounts that are RESPONSIVE and ENGAGING, in order to showcase the constructive works that the organisation is doing. I have not found any account on the social media platforms I use (Nairaland, Facebook, Twitter) that claims to be owned by NLC. Even if they have, how responsive and engaging are they? Let the PRO or President handle it directly so people can get direct access to decision-making structure of the congress.